A win-win ingame lottery system. Every ticket will give you a prize. Prizes are divided into 6 groups. Each group contains a unique set of items. You have chance to win an item from any group. The better the items, the smaller is the chance of wining them.
Lottery tickets can be bought on the website in the Lottery Service. To use lottery, you to write /lottery command in game.
Group 1:
JACKPOT - the best prize you can get. Current Jackpot is Golden Fenrir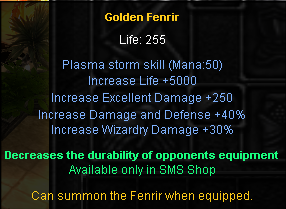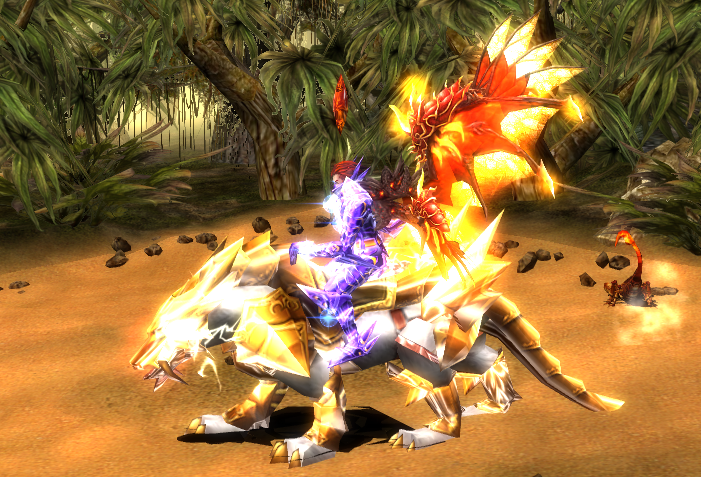 Group 2:
Excellent Brave, Hades, Seraphim, Paewang, Destroy Set Parts +13 +Multiple Options +Luck
Excellent Flamberge, Imperial Staff, Albatross Bow, Stryker Scepter, Imperial Sword +12 +Multiple Options +Skill +Luck
Group 3:
Excellent Dark Phoenix, Dark Soul, Sylphid Ray, Dark Master, Volcano Set Parts +12 +Multiple Options +Luck
Excellent Lightning Sword, Grand Soul Staff, Arrow Viper Bow, Great Lord Scepter, Rune Blade +12 +Multiple Options +Skill +Luck

Group 4:
Excellent Bronze, Bone, Vine Set Parts +13 +Multiple Options +Luck
Jewel of Ancient Harmony
2000 Additional Stat Points

Group 5:
Boxes of Kundun +1+2+3+4+5
Jewel of Bless & Soul Bundles 10x

Group 6:
Jewels of Bless, Soul, Life, Chaos, Creation, Gemstone, LRS, HRS, Energy Fruits
All players receive presents when donating! Every time you transfer bonuses from web to server you receive Lottery tickets for the amount equal 10% of transfer amount. For example, for every 250 bonuses donated you will get 1 Lottery ticket, that costs 25 bonuses for free!
P.S: For us, the lottery is not profitable, because you get about 40% more than you give. But because it promotes trade between players and purchase bonuses + is a unique development among MU servers, we are satisfied with its loss-making for us! Good luck!