Bless Phoenix x200 - server with a unique system reset, dynamic experience and rewards. Large amount of resets, a fast and interesting rewarding system of character development. The absence of uber-PvP items and a balance adapted for a certain amount of stats. Lovers of both, medium and high rates will enjoy this server. Good choice for beginners
Points per reset for BK,SM,ELF: 400
Points per reset for MG и DL: 500
Maximum counts of reset: 200
Reset costs: 5kk * reset counts
The server has implemented consecutive in-game quest system. You can read more about it here. The total amount of stat points, which you will be able to get after completing the quest system is about 25 000. Stat points obtained in the quest system; do not burn with the resets, that means, the more quests you complete, the stronger your character becomes.
 
Dynamic experience system - reduces players experience as they move on resets. Principle is – the stronger you get, the harder it becomes leveling your character. 


 


 
 
We want to achieve a more equitable distribution of game currency among all players in the server. So every 20 reset each player receives a small amount of bonuses, and as you move on reset, this amount increases. As a result, absolutely all the players will have access to the main game currency, but in small quantities. This is a great motivating factor for the development of trade between the players, as even beginners with a few dozen resets will be creditworthy and will become potential buyers of your products on the market. 
 
 


 
At Phoenix x200 server for the first time implemented a completely new system Guild Tribute (GT), or a tribute to a guild. This is the main feature of this server, which fully answers the question - what to do after a maximum reset. Guild Tribute allows to increase the strength of your guild and expand its influence on the server. The system involves a number of components - leveling speed, resets, buff strength, chances of earning bonuses and much more.
 
To perform a Guild Tribute your character must be in the guild, have reset 200 and 400 level. The cost of performing the GT is 10 bonuses, 9 of which immediately recede into the treasury of the castle, no matter which guild owns it. After GT your level will be dropped to 1 and the stats will be given as acquiring 200 reset.
 
With each GT you get:
 
+1 Guild Tribute Points for your guild for 30 days
+3 Lottery tickets
+1000 free stats (the same as you would buy additional stats in the services)
 
Guild Tribute Points have expiry date. Every time when you perform a GT with your character, a guild in which you are a member gets 1 GTP for 30 days. For example, if a guild wants to be constantly in a possession of 10 GTP, then within a month its members must perform a total of 10 GT every 30 days.
 
How the amount of possessed GTP affects the guild:
 
1) Each possessed GTP reduces the required level for reset for all guild members, but not less than 250 level.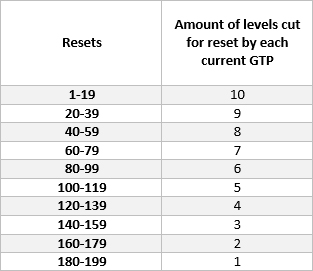 2)
Each possessed
GTP
reduces
reset waiting time by 1 minute
for all guild members up to zero.  
3)
Each possessed
GTP
increases the overall
Guild Power Buff
by
200
. This is equivalent to an extra player in guild with 200 achievements.    
FAQ:
<Guild Tributes are currently in beta stage, the information contained here may be modified or supplemented>